November 11 - 12, 2023
World Class Racewalking Clinic - Katy, TX
Katy, TX • 5350 Franz Road

Katy

,

TX

77493
Organized by World Class Racewalking
About this event
Success!
We'll send your reminder 2 days before this event closes so you don't miss out.
Reminder canceled
You will no longer receive email alerts about this activity.
Do you want to learn to racewalk, or to power walk a 5k, half-marathon or marathon Faster? Join veteran U.S. National Racewalk Team member and fifteen-time U.S. National Champion Dave McGovern for this unique racewalking event. Participants will learn techniques used by our elite walkers at the U.S. Olympic Training Centers to help you to racewalk faster and more efficiently with fewer injuries. And if you don't race, these techniques can help you to lose weight, get fit and feel great!
Participants will benefit from lectures on modern racewalk technique featuring video from recent World Championship and Olympic competitions, individual technique analysis, lectures on race preparation, racing strategy, and proper training methods for racewalkers trying to make the most of their limited training time.
Dave McGovern has been a competitive racewalker and racewalking coach for the past four decades. He is the only track and field athlete in US history to qualify for NINE consecutive Olympic Trials, and he has walked 20 kilometers in 1:24:29--earning the distinction of being the fastest walker in US history never to have made an Olympic Team—yet! In addition to conducting his "World Class Racewalking" clinics throughout the known Universe, Dave, who holds a Master's Degree in Sport Science from the United States Sports Academy, is a USAT&F and LSA certified coach who has led dozens of former clinic participants to masters American and World Championship titles and records, including coaching seven clinic alumni all the way to the US Olympic Trials. Dave was the Head Coach for the 2012 World Cup of Racewalking in Saransk, Russia. The author of Precision Walking, The Complete Guide to Racewalking Technique and Training, The Complete Guide to Marathon Walking, and The Complete Guide to Competitive Walking. Dave was a staff writer for Walking and Walk! Magazines.
Here's what others have to say about Dave's "World Class" racewalking clinics:
"I learned more in two days at Dave's Dallas clinic than I did in nineteen years of racewalking."
-- Fan Benno-Carris, 86, World Masters Racewalk Champion
"Dave McGovern's racewalking clinic in Anchorage was terrific! I learned more in that weekend
about going faster than I had in the previous six years combined." -- Robin Helm, Seattle, WA
Event details and schedule
Typical Clinic Schedule
Saturday, 9:00 a.m.--Individual technique analysis. All walkers are filmed at various speeds. I then work with each person to knock down existing barriers to fast racewalk technique, then film the end result to compare before and after techniques. During the session we will frequently come together as a group to do drills and other exercises to learn and reinforce elements of good racewalk technique.
12:00 p.m.--Shoe store visit to learn more about picking proper shoes for racewalking and marathon walking.
1:00 p.m.--Lunch.
2:30 p.m.--After lunch we review video of the morning sessions to see how far the group has progressed, and to note what remains to be done. Then we head back to the track.
4:00 - 5:00 p.m.--Back to the track to put into practice some of what we've learned, practice technique and flexibilty drills and then have a fun relay race to see how technique changes under semi-competitive conditions.
Sunday, 8:00 a.m.--Most people seem to train pretty much the same way if left to their own devices--moderately-paced mileage every day, with very little variety. I want everyone to understand why this is very limiting, so we start out with an in-depth discussion of workout types. There's a lot of physiology involved in walking fast, and you have to work all of these physiological systems frequently to walk fast. Knowing all about the different types of workouts that condition your neuromuscular, cardiovascular, lactate threshold and VO2 systems will help you to decide what's missing in your current training program.
10:00 a.m.--To the track for a "lactate threshold test" using Polar Heart Rate Monitors to get an idea what a threshold workout should feel like, to determine maximum and threshold heart rates, and to determine appropriate training heart rates for other types of workouts.
12:00 p.m.--Lunch
1:30 - 4:00 p.m.--"Putting It All Together" lecture: how to establish long-term goals, and how to intelligently map out a yearly training program to achieve those goals. We may also talk about tapering properly for a big race, diet, or whatever else participants have on their minds before wrapping up.
November 11 - 12, 2023
Saturday, Sunday
Katy, TX
5350 Franz Road
Katy
,
TX
77493
Clinic/camp-Multi-day - Individual Age group/Open
Media
1 Photos and Videos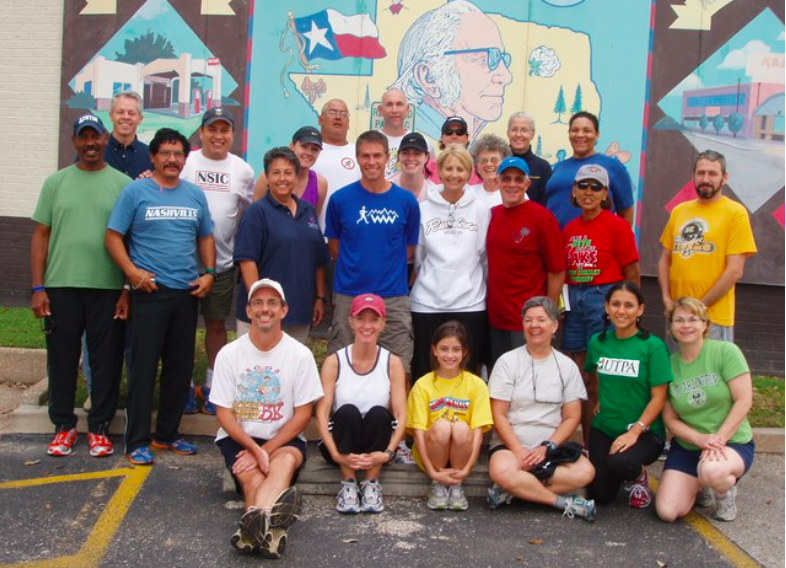 More events from this organizer