About this event
Success!
We'll send your reminder 2 days before this event closes so you don't miss out.
Reminder canceled
You will no longer receive email alerts about this activity.
The Sourdough Triathlon is a half-Iron distance race held in Chatanika, AK about 45 minutes northeast of Fairbanks at Milepost 31.5 of the Steese Highway. It's a quiet area with minimal traffic and plenty of wide open spaces. The 1.2 mile swim is in a former gravel pit filled by a pristine groundwater stream. The 56 mile bike course is two laps on a quiet, paved two-lane road with the occasional vehicle passing through. The 13.1 mile run course is two laps on the shoulder of this same road. Due to the course layout, this event is very spectator-friendly. Many competitors and their families camp out at the site the night before the race in RVs or tents.
Event details and schedule
Registration opens Feb. 1 and will close when 99 participants have registered or at 12:00 pm AST on July 14, whichever comes first.
The 30th annual Sourdough Triathlon starts at 10 am on Saturday, July 16. All transitions will occur in the same area adjacent to the pond. Race distances are 1.2 mile swim, 56 mile bike and 13.1 mile run.
Individual entry fees are listed below. USA Triathlon membership is also required. If you are not a USAT member you will need to buy either a one-day membership pass ($15 adult) or an annual pass ($50 adult) to participate. All participants must be at least 18 years of age by race day. Refunds are not available. Note: it is not necessary to be an Active member to register.
Registration Prices
Individual:
Feb. 1- June 29 $60
June 30 - July 13 $90
July 14 $120
Relays:
Feb. 1 - June 29 $120
June 30 - July 13 $150
July 14 $180
Each team member must have a USAT membership.
Registration closes at 12:00 pm AST on July 14
Awards will be given to the top three men and women over-all and top three masters men and women (age 40+). The top relay team will also receive awards.
The transition area is gravel so we will cover the ground with moving blankets. There is plenty of space in the immediate area to park cars and camp out. Port-a-potties will be available.
Following tradition, there will be a potluck barbecue after the race. We ask all participants to bring a dish to share and to hang around to get to know others in the triathlon community. We'll provide the burgers and brats.
Swim Course
The swim is in a gravel pit and consists of four and a half laps totaling 1.2 miles. The water temperature typically ranges from 55 to 70 degrees so a wetsuit is highly recommended. The rectangular course will be marked with large orange and yellow buoys.
Exiting the water requires you to climb out of the gravel pit onto a carpeted transition area. Use caution when entering and exiting the swim area as it can be very slippery.
Bike
The route is two laps totaling 56 miles. After the swim, claim your bike and walk it out of the transition area. Relay swimmers will run through the transition area. They tag their cyclists just past the exit of the transition area.

All cyclists run or ride about 100 yards on hard pack dirt to the paved road. Please use caution on this section. At the road, turn right and proceed west for 1.6 miles to the Poker Flat Research Range rocket. Here cyclists make a U turn on the Steese Highway, then proceed east.

The next turnaround point appears after heading east for 13.6 miles, adjacent to a large traffic pull out. Make a U turn then circle back to the first turnaround to complete the first lap. Racers travel this loop a second time and re-enter the transition area.

The course is mostly flat with some rolling hills near the second turnaround point. Please use caution when attempting to pass. The Steese Highway is high speed and popular for weekend use. Camper traffic will be present. Also be prepared for a flat tire.

Traffic will not be stopped for participants. Racers must follow rules of the road and proceed with caution. Aid stations are available at the entrance to the paved road and at either turnaround.
Run
The run course is two loops totaling 13.1 miles. After completing the bike leg, run out of the transition area to the road and turn left. Relay cyclists will run, with their bikes, through transition and tag their runner just past the exit.

Continue 1.7 miles east to the first aid station. Cross the road and reverse direction, continuing west past the transition area. Continue an additional 1.5 miles to the aid station at the Poker Flat Research Range rocket. Cross the road again to return to the start and repeat the entire loop. After the second lap proceed to the finish line adjacent to the transition area to complete the Sourdough Triathlon.

The run course is flat, however there is very limited shade. Be prepared for a hot day and exposure to the sun and elements. Fairbanks is also known for summer afternoon thunderstorms.

Watch for bikes on the road throughout the run. Traffic will not be stopped for participants. Please use caution when crossing the road.

While there is no course completion cut-off time, aid stations are only staffed until 6:00 pm.
Steese MP 31.5 DOT gravel pit
MP 31.5
Chatanika
,
AK
99712
Triathlon-Half/Middle Distance - Sourdough Triathlon - individual
Triathlon-Half/Middle Distance - Sourdough Triathlon Relays
Triathlon-Half/Middle Distance - Sourdough Triathlon - Individual Masters (40+)
Media
1 Photos and Videos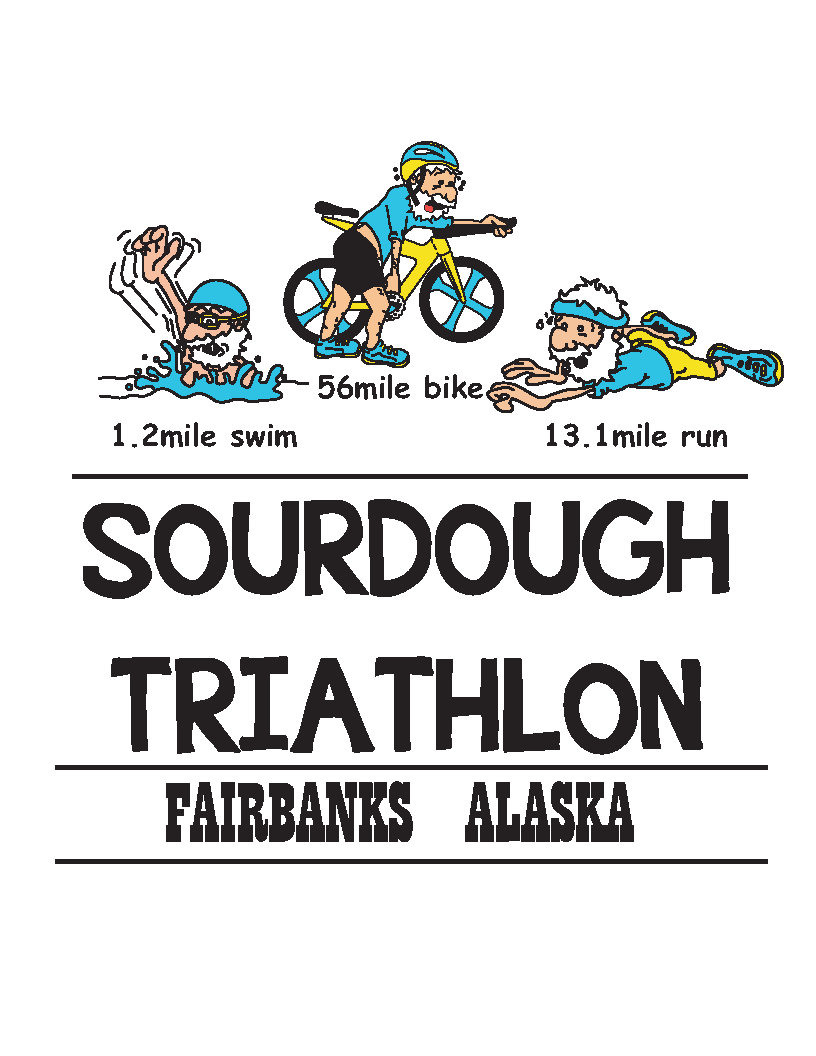 More events from this organizer